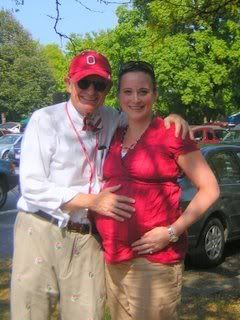 "And buddy, that was good enough for me.
Good enough for me and E. Gordon Gee..."
I met OSU president E. Gordon Gee on Saturday when he crashed our tailgate. Check out his cool pants! Not many people went up to him for an autograph or photo, but I didn't want to miss this awesome scrapbook-photo opp!
My Uncle Gary replied to my Dad's e-mail, "The old prenatal 'laying of the scarlet and gray hands'. Cool."