Today we slept in late & got up around 10 AM. Then DH noticed that Corbin's cord had finally fallen off in entirety, so we decided to give him a bath. He really liked it- he didn't cry or fuss & acted like he was getting a spa treatment. The photo above is in Daddy's arms after a successful first bath.
Then after we got him cleaned up & dried off, we did some tummy time on his activity mat. DH went downstairs for a minute & I was snapping some photos of him holding his little head up (he is so strong already) and all of a sudden, he flipped over! He flipped from his tummy to his back, & flipped from his left side. It may have been a fluke, because he couldn't repeat it for DH, but I was nonetheless very proud!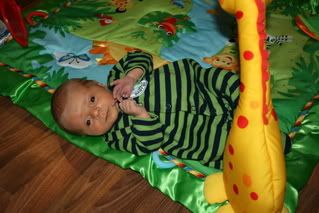 I just flipped over!
It was a very eventful first hour of the day!