That's how Corbin said it!
He had a good time with Daddy, Uncle Ben & cousin Ethan the other night. Apparently, he would say it before he actually approached the door, so not many of the neighbors heard it. Jon said his costume was a big hit!
I stayed home with Grandma Mary & the twins & helped hand out candy to all of the cute trick-or-treaters. A very successful night overall!
Come on, Dad!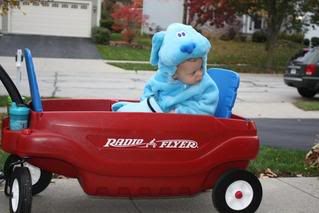 Off we go!