Last weekend, we went out of town to see family. We celebrated Jon's birthday at his grandma's house. We were so proud of our little man. He was so well behaved. He sat up at the table like a big boy when he woke up from his nap during dinner. Grandma KK fed him a taste of applesauce & it made him pucker. He is getting very interested in food and watching people eat.
Before most of the guests arrived, grandma posed him in this dolly stroller.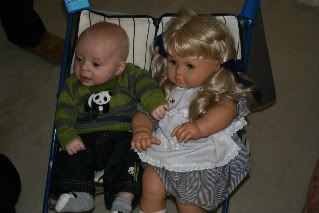 "Hey, get outta my way, lady!"
Later that night, daddy tried on the Moby for the first time. He agreed that it is very comfortable.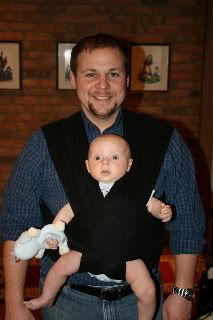 At the end of the night, Corbin and daddy cuddled on the couch. Corbin was especially tired, since he had been so stimulated all weekend.