I went to a new store today! It was very tree-huggy & had all the products I would buy for my baby if I was uber-rich. We already cloth diaper. We mostly use Bum Genius brand, but they had these beuatiful fitteds over there. I really hope to have a reason to buy newborn fitted diapers soon- they are adorable!
I indulged a little bit & bought Corbin a new color diaper, a new eco-friendly sippy cup, cloth wipes & an amber teething necklace.
I love the cloth wipes. They are so super soft- organic velour and terry. I think Corbin's gonna love 'em.
He's trying to get used to the teething necklace. It only works on him if it's hidden under his clothes. Otherwise, he wants to try & yank it off. If you're wondering WTH an amber teething necklace is, click this link:
Never mind. The link isn't showing up. Just google it.
Here is my little model. These pics were taken this afternoon in the living room.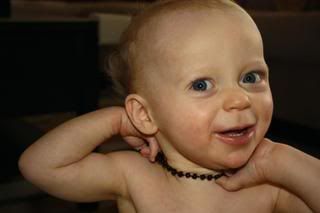 Sporting the new dipe, with bonus drool-strings. (look at that skinny lil thing!)