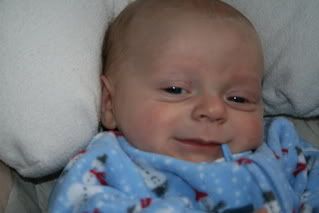 I am actually doing quite well on the blogging lately! Yay! lol.
I took these photos just moments ago. We've had a good morning so far. Corbin checked himself out in the mirror for a few moments & then checked me out in the mirror, too. I'm sure he was quite confused. Then I laid him down on the bed & had a "conversation" with him. He was cooing a lot, so I just let him talk. And he gave me lots of smiles. These photos were taken in the swing while it was actively swinging, so they are a little off center, but they captured his mood still.
We tried the BebePod for the first time on Saturday night. It worked well. He can mostly support his head up by himself, but he gets tired after a couple of minutes & plops over. I like this photo because it shows just how much of a little tank he is becoming.