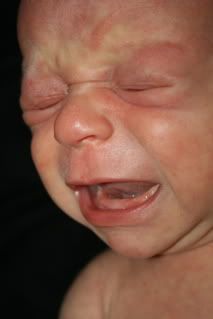 Yeah, we just couldn't believe that we lost our second Championship game in a row.
I have not posted lately because I have been very sick. Sicker than I have been in a long time. Last night when I took my temp, it was 103.3. I've sweated through the sheets two nights in a row. Thankfully, Jon stayed home yesterday & today to help take care of Corbin. It is VERY difficult to take care of someone else when you are too weak to move. It all started for me on New Year's eve.
That is an unflattering photo of me on New Year's Eve, when I was starting to get sick. We went to a party that we ended up leaving early because my asthma was acting up. It never acts up anymore, so that was unusual. The next morning, I was very sick. Corbin had the sniffles & a lot of drainage for less than 24 hours. No temp ever. Thank God for breastmilk! I, on the other hand, had a fever ranging from 100-103 plus for the next 8 days. Agh. I went to the doctor on Tuesday & got some antibiotics. My fever finally broke this morning. We actually had people over for the game. Jon was dismayed because I made him make the food (I wasn't going to serve people when I was sick) and I ended up falling asleep for the game downstairs while people upstairs took care of the little guy. Falling asleep for the game ended up being a good decision by the way.
Here we are pre-game: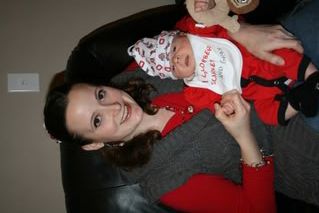 I am so glad to be up and moving around again. The things we take for granted.
We ended up buying an infant scale with some giftcards. Corbin weighs 9 lbs and 12 oz as of yesterday, and we also had to retire the newborn sized clothing. I leave you with one last photo of our cutie.