We got to the lake on Saturday morning just in time for mommy & daddy to enjoy some cinnamon rolls and other baked breakfast treats. I, of course, did not get to participate in this. So, they tried to think of other means to entertain me.
Here I am trying to take in the scenery. All of a sudden, these round floating things came hurling at me. They all thought it was cute or something- I was just trying to figure it out.
Later that night, I got a bath in the utility sink. *ahem* A little privacy, please!
On Sunday, we celebrated Aunt Jeni's birthday. It was kind of a rainy day, so we didn't go outside much. Then on Monday morning, I woke up bursting with energy. When Mommy was trying to give me my bottle, I saw my activity table out of the corner of my eye. Well, once I see it, forget about doing anything else! So, I stood at it all by myself for a good 30 minutes. Then I also showed Mom how I can cruise around it.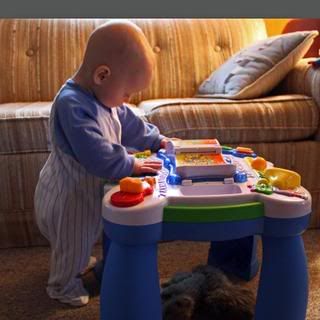 Then I had some solids. Prunes get a bad rap- I like 'em! I like them so much I thought I would impress Mommy by showing her how I can feed them to myself. Sort of.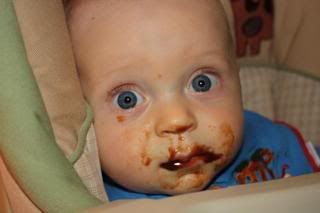 Daddy got the kite out later that day, and I sat & watched the entertainment from Ethan's exersaucer.
Xander surveys the situation. Do you like his new 'do?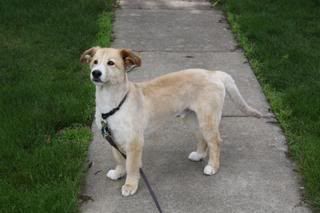 It worked! He got it up pretty high! Can you see it?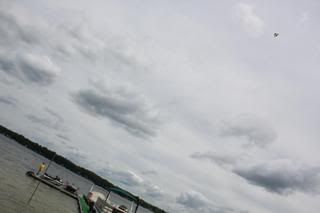 I don't believe it!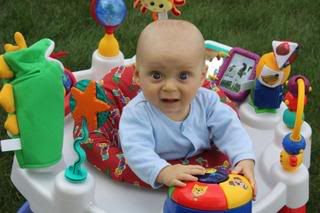 Mommy took some pictures of me when I wasn't looking.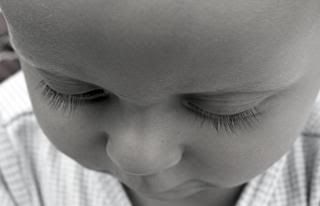 Tuesday, we turned the yard into an amusement park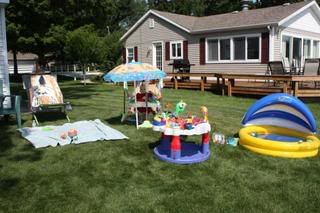 Then, I went for my first swim in the kiddie pool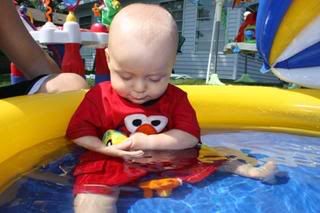 Come to me, all ye toys!
Wasn't expecting that!
Hey, I didn't say you could bring out the floaty things again!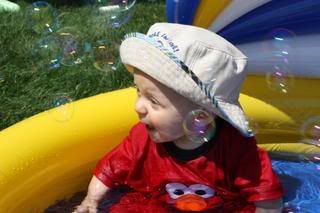 I guess they aren't that bad.
Today I got to go in the pool again! I am so cool!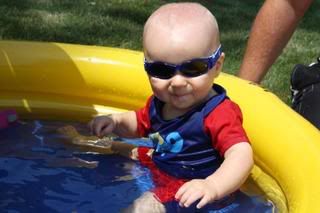 I smiled some for the camera. This lady takes a lot of pictures!
Daddy told Mommy to get in the pool. Silly lady, she doesn't fit in here!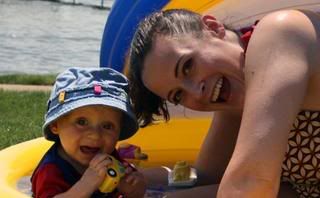 In the afternoon, I got to go on a float-boat ride! I wasn't too sure at first!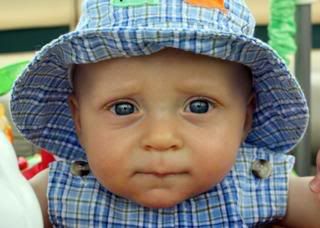 Daddy gave me a ride up front. My romper says "My Boat". Daddy and I think it's girly, but Mommy often gets her way in the wardrobe department.
Look at me- I'm driving!
I'm the king of the world!
...and that has been my vacation so far! Check back in a few days for a new update of my adventures. And just for kicks, here is a bonus pic of my doggy, whose ears were flopping in the wind on the boat: