Today we took our first annual trip to the pumpkin patch! It was unseasonably warm today- near 70! Next year we will definitely wait until a cooler day so it feels more like fall.
Here we are at the farmer's market! During October, it becomes a pumpkin patch with hayrides, a corn maze, pony rides and a haunted forest.
This is the tractor (filled with hay in the middle) that pulled us out to get our pumpkins
Getting ready to go!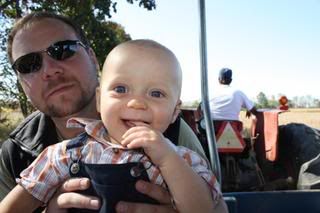 On the hayride
Yeah!! Hayrides!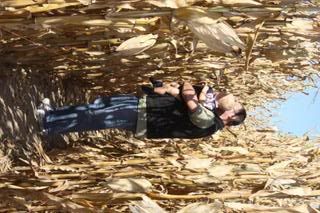 Getting lost & cornfused in the corn maze
Checking out the cornstalks
Mommy & Corbin inspecting pumpkins
What is this thing?
Jon picks out our pumpkins. We were the last family to pick them & get back to the tractor because we were taking so many pictures!
When we were done picking our pumpkins, we went to the barn & had some apple cider. As you can see from Corbin's wet overalls, he thoroughly enjoyed it!
With Daddy in the barn
They also had a mini petting zoo, which included 2 calves and a puppy.
But the puppy was a little too tired for pets
And at the end our day, we certainly could relate to that puppy!